SCOTY 2020 winner Holly Charnock to share FSM parcel advice on LACA webinar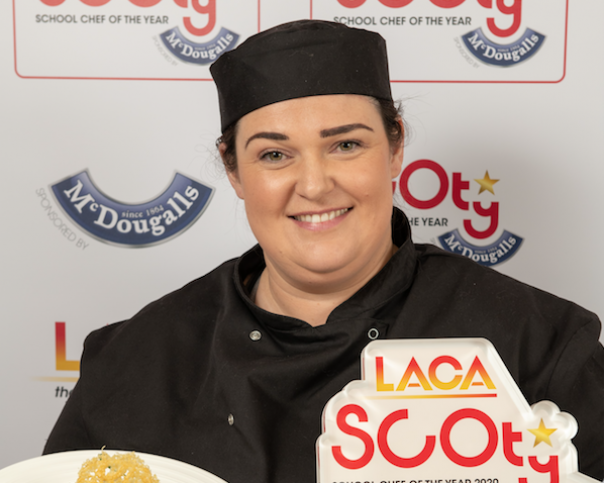 22 Feb 2021
Current School Chef of the Year (SCOTY) winner Holly Charnock will be involved in the upcoming LACA webinar where she will discuss her SCOTY experience and free school meal parcels.
The LACA webinar will take place on Wednesday 24 February 2021 at 2:00pm. The webinar will also feature a post-Brexit political update and Jimmy Pierson from ProVeg will deliver a talk on how they are supporting UK schools with their School Plates campaign. 
Charnock, employed by Sefton Catering Services and based at Woodlands Primary School in Formby, was named the SCOTY 2020 champion after beating nine other regional winners and two 'wild card' entries. 
During the LACA webinar Charnock will be sharing her advice on how to get the most from food parcel ingredients to help parents to create nutritious meals for their children while they are not attending schools. Also the SCOTY 2020 champion will discuss her experience with the competition and offer tips to potential entrants. 
The 2020 finalists had 90 minutes to prepare an imaginative 'school compliant' two-course meal suitable for children in primary year six or secondary year seven. 
Her main course was braised beef tortellini with spinach, a tomato and basil sauce, balsamic reduction and a parmesan crisp followed by a chocolate & beetroot brownie served with banana crumble ice cream and a raspberry and vanilla coulis.
Following her win, Charnock appeared on BBC Breakfast where she highlighted she wanted to showcase that school chefs were 'proper' chefs and to encourage children to have a healthy balanced diet.
If you are interested in the LACA webinar, visit here: https://laca.co.uk/webinars.