SCOTY crowns South West regional final winner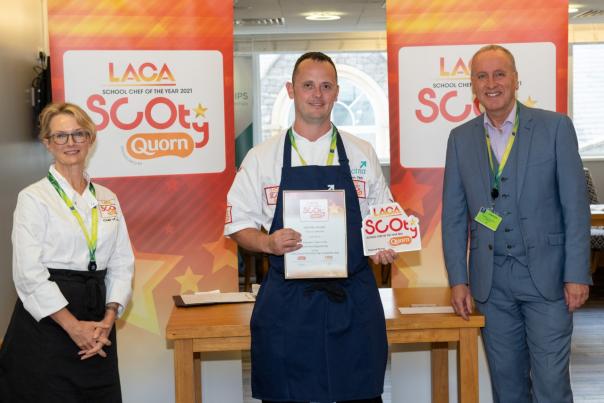 30 Jun 2021
Rob Finch of IFG Cucina has been named the winner of the School Chef of the Year (SCOTY) South West regional final.
Organised by the LACA and sponsored by Quorn Professionals, the SCOTY competition is the education catering sector's premier culinary skills competition.
In the regional final Finch cooked chipotle & honey roasted Quorn with root vegetables, fondant potato, tomato beurre blanc using Quorn Fillet followed by raspberry and chocolate pudding with a berry compote and frozen yoghurt.
The winners of these heats will compete as their region's champion at the 2021 national final scheduled for 12 and 13 October in Birmingham.
LACA members ensure that over three million lunches are served in 22,000 schools every day throughout England and Wales.
As the sponsor of this year's SCOTY, Quorn hopes to inspire future generations to eat healthily and establish sustainable eating habits by educating them on how their food choices can be both good for their health and the planet.
The next two SCOTY regional finals are scheduled to take place on Tuesday 6 July at Brooksby Melton College where school chefs from the East and West Midlands will be competing for a place in the final.