SCOTY winner cooks with Michelin star chef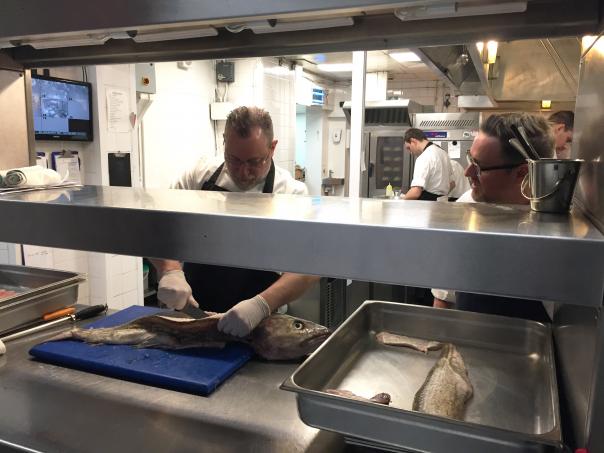 22 Mar 2019
LACA's School Chef of the Year winner, Steven Cross, was invited to spend the day working alongside Michelin star chef Alyn Williams.
Williams had invited Cross to join him in his signature restaurant, Alyn Williams at the Westbury in the Westbury Hotel Mayfair as part of this year's LACA Host a School Chef, sponsored by Alaska Seafood, programme.
The programme offers school chefs across England and Wales the opportunity to spend the day in some of the most 'exclusive' restaurants in the country.
Williams said: "We have been involved with Host a School Chef from day one when LACA first introduced it and there is no doubt it is a great way for caterers in whatever part of our industry they work, to share knowledge and experience and discuss new techniques that can benefit all.
Steven and the team in the kitchen here have worked together brilliantly today and we have enjoyed having him along. He is clearly a talented chef who has had a lot of experience in the industry."
Williams is an ambassador for Alaska Seafood and he and Cross will look at ways to develop fish recipes that are School Food Standard compliant to encourage more children to eat good, healthy, nutritious seafood and help improve diets.
Cross added: "What a tremendous day and it is such a pity that it has gone so quickly.
"I cannot thank Alyn, Head Chef Tom Booton and all the rest of the team enough for giving me such a great experience.
"In addition I must thank LACA and our sponsors Alaska Seafood for making this all possible, without their significant input none of the school caterers across England and Wales would be able to experience this and I hope all my colleagues have an experience as good as mine."