Three school chefs reach SCOTY final after winning regional heats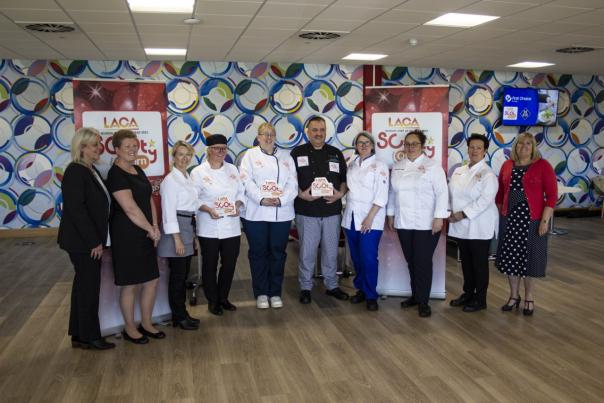 19 May 2022
Three LACA regions joined together at First Choice Group's kitchen in Cannock to establish three more candidates who will go forward to the School Chef of the Year (SCOTY) finals in July.
The winners for each region were Clair Edwards for the Wales Region, Lee Taylor for the West Midlands and Rose Simpson representing the North West.
The first to be crowned was Clair Edwards from Rhiw Syr Dafydd primary school, Caerphilly, who delivered a sticky Quorn sausage skewer for the 'grab and go' snack before offering a tomato and spiced Quorn loaded chapati bread served with garlic and coriander rice. Her dessert was a strawberry and lime delight.
Clair explained: "The inspiration for my menu came by liaising with the year 6 pupils at the school. As the menu is based on age 11 to 12 year olds, as their taste buds change they are willing to try different types of food. I think that these dishes will appeal to this age range as they do tend to eat with their eyes."
Academy's Lee Taylor from the John Gulson Primary School, Coventry took the West Midlands regional crown with 'grab and go' offer of Aloo Chat Masala with cooked roti chips. His main course of Keema cottage pie with chana masala was served with an Indian pickled slaw and a sour cream and mint dip. His Indian theme continued with a dessert of Indian spiced apple crumble with mango ice cream and fruit coulis.
Lee said: "The inspiration came from the pupils within the school - we ran a mini competition to see what would be popular. We have used Quorn products within the dishes as these can be enjoyed by most of the pupils we serve due their religious beliefs, we have also used Quorn in the dessert as an emulsifier to make the dish as creamy as possible."
Morecambe Bay Community Primary School's Rose Simpson, prepared a vegan hash wrap for the 'grab and go' snack, using British vegan sausages, vegetables, and spices in wholesome wrap. Her main course was Quorn beef pieces and vegetable teriyaki with homemade noodles, before she served up a trifle twist, raspberry jelly set with fruits, a layer of custard and topped with a ginger soil.
Rose commented: "I was inspired to create the chosen dishes with a colourful fusion of flavours because of an increased uptake of children in my school wanting to try more vegetarian/vegan food, all of my dishes are vegan. Where possible we select products that are sourced from local suppliers within Lancashire, therefore reducing our food miles."
One further heat will be held in London with the final rounds being held at the LACA Main Event in July. Each of the regional final winners will each receive a £100 cash prize.
Sarah Robb, foodservice marketing manager at Premier Foods, added: "When you see the level of dishes the chefs are serving up in the LACA School Chef of the Year competition you know that the taste buds and health of the next generation are in good hands. Bisto is proud to partner LACA with this competition. We love to see how chefs use the range of products which have all been created to save them time in the kitchen."
The National Final will take place on 6th and 7th July during the LACA Main Event, visitors to the event will be able to watch it live, register for your free entry ticket here.