Tilda reaches Mary's Meals milestone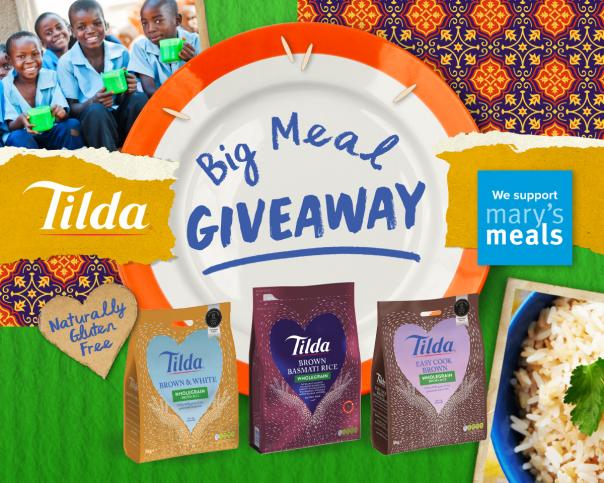 12 Apr 2019
Since announcing their partnership in July, Tilda Foodservice has donated 60,523 meals to the school-feeding charity, Mary's Meals which provides daily meals to impoverished schoolchildren.
The six-month milestone was celebrated at Tilda's headquarters in Rainham, where they were joined by Gerrard McMahon, fundraising co-ordinator at Mary's Meals to mark the donation.
The dedicated day saw the Tilda Foodservice team serve up a Mary's Meals inspired dish to its 200 employees. With all donations going to the charity, the event raised a further £400.
Annette Coggins, head of Foodservice at Tilda UK said: "Everyone at Tilda is over the moon with the number of meals that have been donated in these six short months.
"This is only the beginning, and we're excited to announce that we will be expanding our meal pledge to include Tilda Wholegrain Brown Rice, Tilda Brown Basmati, as well as Tilda Brown & White. So, there's now even more ways for UK caterers to offer wholesome and nutritious meals to their customers and help children across the globe receive the vital nutrients they need to succeed in school."
Mary's Meals feeds 1,425,013 children every school day, across five continents, in 18 countries, attracting them into the classroom to receive an education, which could be their route out of poverty. 
McMahon added: "'We are very excited about our partnership with Tilda and grateful for its support, which is bringing hope and joy to chronically hungry children and their communities.
"There are currently 61 million children around the world who can't go to school because they have to forage, beg or work to get food to survive. Support like Tilda's is so important because we want to reach the next hungry child whose life can be changed by Mary's Meals."
Tilda Foodservice will donate 7p from the sale of every 5kg bag of Brown & White, Tilda Brown Basmati, as well as Tilda Wholegrain Brown Rice – the cost of a typical portion of rice in the UK to caterers and what's needed to provide a hungry child with a school meal through Mary's Meals.