Twelve school chefs advance to SCOTY National Final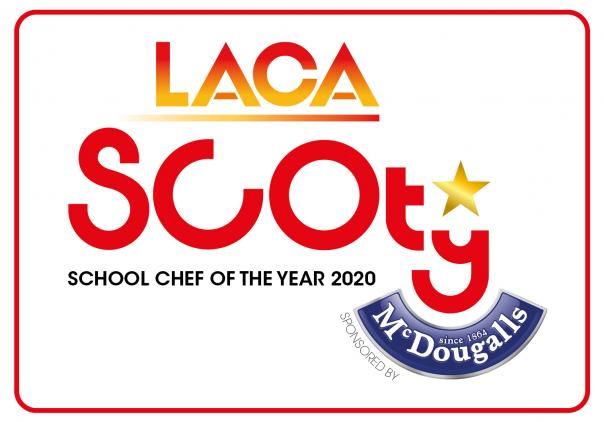 24 Jan 2020
Twelve school chefs from across the UK have advanced to the LACA School Chef of the Year (SCOTY) National Final, which will take place on 5 March in Stratford-upon-Avon.
The school chefs will have 90 minutes to prepare and serve a main course and dessert suitable for 11-year-old in a school. The food cost for one main course and dessert must not exceed £1.30 and a minimum of one different McDougalls product is required in each dish.
SCOTY is the education catering sector's 'premier' culinary skills competition. The SCOTY champion will receive a £1,000 cash prize and the LACA School Chef of the Year trophy. The second and third place will get £500 and £300 respectively.
The ten regional winners:
Holly Charnock,

employed by Sefton Catering Services and based at Woodlands Primary School in Formby (North West winner)

Becky Crossley

, employed by North Yorkshire County Council and is based at York High School in Acomb, York (Yorkshire & Humber winner)

Gavin MacGregor

, regional support chef from Newcastle upon Tyne (North East winner)

Sara Franklin

, employed by Radish and is based at Campion School, Bugbrooke Northampton (East Midlands winner)

Lee Taylor

, employed by Academy A and is based at John Gulson Primary School, Coventry (West Midlands winner)

Jennifer Brown,

employed by Atalian Servest and is based at Sarum Academy in Salisbury (South West winner)

Jane Jones,

employed by Denbighshire County Council and is based at Ysgol Twm O'r Nant primary school (Wales winner)

Annalisa Grief,

employed

by Norse Catering and is based at West Winch Primary School in Norfolk (East of England winner)

Raheem Morgan,

employed by Chartwells Lewisham and is based at Coopers Lane Primary School (London winner)

Cheryl Humphries,

employed by ISS Education and is based at High Weald Academy in Cranbrook (South East winner)
Joining the ten regional winners are two 'wildcard entries' who were selected by the LACA SCOTY judges. The 'wild card' entries have an equal opportunity of winning the title of School Chef of the Year.
The 2019 SCOTY champion was Steven Cross from Park Community School in Hampshire. Cross was one of the 'wild card' entries and he went on to win the SCOTY National final.
The 'wild card' entries:
Catherine Deane,

employed by Devon Norse and is based at Yealmpton Primary School (South West)

Wendy Lohse,

employed by Caterlink and is a Relief School Chef across Caterlink's Isle of Wight primary school sites (South East)
Commenting at the start of the 2020 Regional Finals, LACA national chair, Stephen Forster said: "There is no secret formula to succeeding in the LACA School Chef of the Year Competition.
"It just requires school chefs with passion, dedication and oodles of culinary skill mixed together with delicious, nutritious dishes prepared with creativity and flair.
"Every year, this competition allows us to demonstrate to the wider world both the professional expertise of today's school chefs and the excellent meals they prepare tirelessly every day in schools across the country." 
The SCOTY National Final will take place on 5 March 2020 followed by the winners presentation dinner that evening. If you would like to book your place at the National Spring Seminar, which takes place on 6 March at Stratford Manor Hotel, visit: https://laca.co.uk/laca-spring-national-seminar-2020.