Two more school chefs advance to SCOTY competition final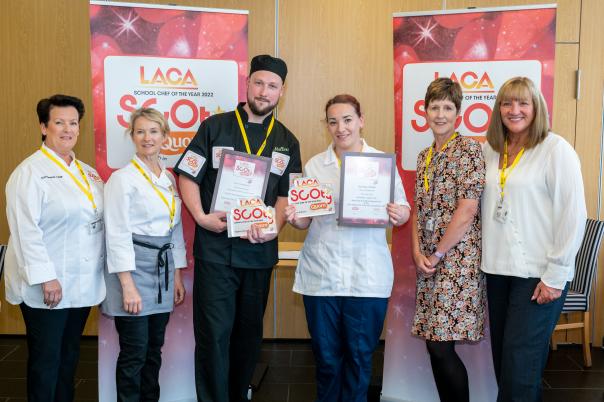 18 May 2022
Tom Armstrong representing Yorkshire & Humberside and Victoria Clair from the North East & Scotland region have advanced to LACA's School Chef of the Year (SCOTY) National Final, which will take place at the LACA Main Event (6-8 July 2022).
Mellors Catering Service's Tom from Shelley College, Huddersfield created a tandoori Quorn & onion bhaji for the innovative new 'grab and go' round, before dishing up an Indian spiced Quorn cottage pie with crushed Bombay potatoes, a butter sauce and greens for the main course. For dessert he made coconut milk panna cotta with mango puree.
Speaking after the heat Tom said: "It seems to me, Quorn products do not get enough recognition, I have found that they are a perfect platform for flavour. If you apply simple techniques and take the time to infuse them with flavours it really elevates the original product to what it is capable of. This is never truer than when cooking Indian cuisine, which is predominately vegetarian to begin with and I certainly feel there is a niche for them in the education sector."
Victoria from Stockton Borough Council's Crooksbarn Primary School offered a 'meaty' Quorn, goats cheese and beetroot roll for the first round. Her main course was a herby Quorn and spinach tortellini served with a medley of vegetables and an Arribiata sauce. Her dessert was a special rhubarb & raspberry crumble with custard.
Victoria commented: "I was inspired to create the 'grab and go' recipe due to one of my favourite starters, goats cheese & beetroot tart. Knowing that most children enjoy sausage rolls, I combined the two ideas and created my 'grab and go' item. For my main course I know that any dish containing pasta and tomato sauce is certain to be a winning combination. I often use Quorn products when producing school meals and the children always enjoy them. 
"The raspberries for my dessert come from the gardens at Crooksbarn Primary School, and are grown by the children. The vegetables and the goats cheese were sourced from our local farm shops within Stockton on Tees."
The LACA School Chef of the Year (SCOTY) is now in its 28th year and is something of an institution in school meals catering. It has drawn national attention with the annual winners often appearing on TV to showcase the potential that lies within the school kitchen.
Chair of the Judges, Kate Snow added: "We've seen a lot of great dishes today across both the main and the new 'grab and go' category. Everyone has really embraced using Quorn, there are a lot of lucky pupils out there who get to enjoy meals from these chefs every day.
"We partnered with LACA as part of our mission to help children and young adults make healthier and more sustainable choices in their early years. Each round of SCOTY shows us that there is so much good work already being done in education. Once again, it's a tough round to judge."
The national final will be held at the LACA Main Event on Wednesday 6th and Thursday 7th July, you can register free to watch it live at the Hilton Birmingham Metropole with the overall winner announced on the evening of Thursday 7th July.