Updated business interruption guide released for schools and caterers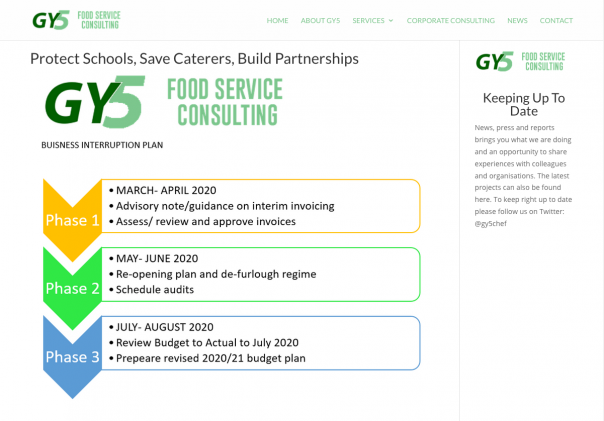 15 Jul 2020
GY5 Food Service Consultants, which specialise in education catering, has released the third in its series of advisory guides to schools and caterers that aim to 'protect schools, save suppliers, and build partnerships.
Julian Edwards of GY5 said: "The Cabinet Office has issued a new Procurement Policy Note 04/20: Recovery and Transition from Covid-19 and this continues to express a desire for public bodies to support their contractors and suppliers.
"There is no absolute guide for parties to go to, however. And without a common formula or guide for schools and caterers to adapt we could see another wave of distress and anxiety expressed by all who cannot fathom how to manage their business relations for the next period.
"The crucial requirement is transparency and partnership.  And this needs to extend for many months and involve close monitoring of sales as well as the new heightened safety regime.
"We are now working through phase three in preparation for this and it is hugely encouraging that we have received buy-in from food service operators that we deal with regularly and occasionally.
"Since March, and the business interruption that had since followed, GY5 has worked closely with schools, academies, and their caterers to ensure business relations have been kept at the very least civil and, at best, a better, friendlier partnership."
He added that there was still a degree of uncertainty about what would happen in the new academic year, with questions around how many children will be taking school meals, how best to budget with such uncertainty, what to put on the menu, and how best to serve food?
"It is safe to assume that all caterers will need to provide some form of audit on accounts at the term end as well as a workable budget plan for next year."
Schools and caterers can freely access the GY5 advisory guides and adapt them for their particular circumstances. To do so visit: www.gy5.co.uk