Welwyn Hatfield reveals Young Chef of the Year winner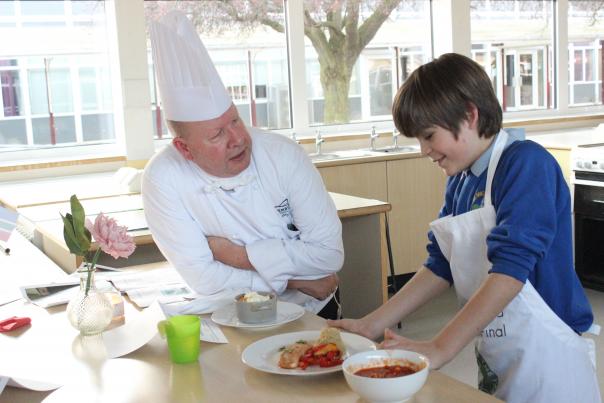 13 Feb 2020
Lucas Brooks, a nine-year-old from St Michael's Woolmer Green Church of England School, has won the Welwyn Hatfield Young Chef of the Year trophy.
He competed against eight other year five pupils from Welwyn Hatfield primary schools at Ridgeway Academy on 7 February.
The award, developed by The Food Teacher Team, aims to improve children's long-term health by educating them about healthy food and nutrition.
Lucas chose his mum as his 'hero' and designed his menu with her in mind. He produced a three-course menu of vegetable and vermicelli soup, Thai salmon with quinoa and honey glazed carrots and a dessert of honey crumble served with whipped cream.
Claire Woods, Lucas' class teacher, said: "From start to finish the process of the Young Chef award was a brilliant experience for the children. They loved learning new skills and preparing a variety of different foods. 
"As a teacher I found the project well resourced and very organised and I thoroughly enjoyed the experience - we will definitely take part again."
Lucas won a days experience working with head chef Andrew Parkinson at The Grove Hotel, the Welwyn Hatfield Young Chef of the Year 2020 trophy and a selection of recipe books.
Judge Harry Lomas (MBE) was impressed with the finalists, he commented: "All the children were fantastic and many of the dishes I would add to my menus. It was a challenge finding a winner but Lucas stood out for the quality of his food, the balance on his plate and his independence throughout the afternoon."