World Record holder visits Hertfordshire school to launch recycling week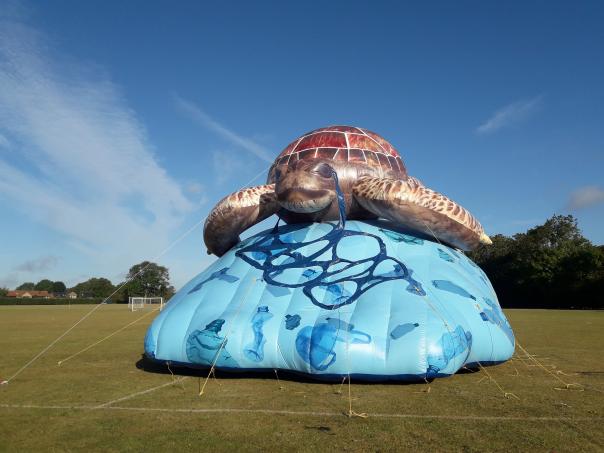 25 Sep 2019
Chris Bertish, a Guinness World Recorder holder for being the first person to cross the Atlantic on a paddle board, visited St Clement Dane secondary school to launch the start of recycling week (23 - 27 September 2019).
The presentation by HCL (Hertfordshire Catering Ltd) along with their cleaning product supplier, Delphis Eco, was designed to initiate a discussion about how plastic is recycled in the UK and the need for everyone to take the future 'in their hands'.
With a giant Eco-Turtle blimp providing the backdrop, students attending the special assembly heard Mark Jankovich, an environmental philanthropist from Delphis Eco say: "There is more microplastic in the ocean than stars believed to be in the galaxy! 8 million tons of plastic, which equates to a dump truck a minute, ends up in our oceans each year and has a material impact on climate change."
"It's great to meet the pupils and understand their concerns around how plastic is currently being disposed of and help them recognise how we can all make a real difference in demanding more visibility around what products are packaged in."
Andrew Sugden, head of food & procurement at HCL said: "The subject of how plastics are recycled and used in our world today, and what that means for the world of tomorrow, could not be more poignant. Every one of us has a role to play and today's visit has helped us all understand just how we can choose to make a difference.
"At HCL, we are committed to managing our catering service with a focus on the impact of our activities on both people and the environment. HCL has taken practical steps to reduce harmful waste which impacts on the environment across our service.
"Since 2015, all HCL's branded disposable products are made from fully compostable, sustainably produced plant-based materials and we do not use oil-based plastics. Choosing compostable disposables means that food and packaging waste can be recycled together."
During the special assembly, the pupils were invited to make a plastic pledge: #plasticspledge and support the campaign on Instagram @plasticspledge and sign a petition asking Government and businesses to do more and change plastic waste as we know it, for good.