18 Apr 2019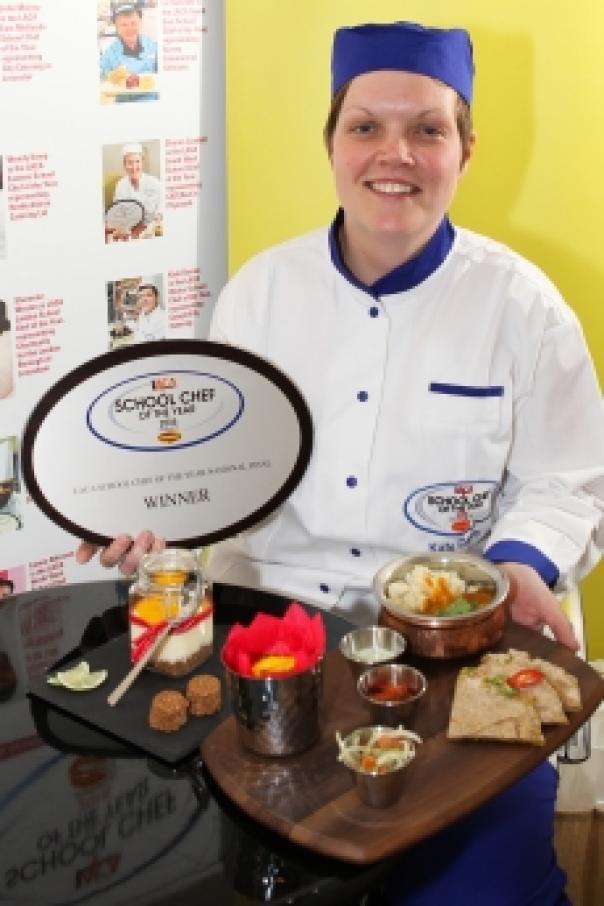 Kate Davies, the 2015 Welsh regional final winner, has taken the title of LACA School Chef of the Year 2015 (SCOTY) at the national final held yesterday at the Foodservices Wing, Defence Logistics School, Worthy Down in Hampshire.
The competition is organised annually by LACA (Lead Association for CAtering in Education) and is sponsored by Maggi from Nestlé Professional.
Kate's winning dishes were: Main Course: Spice street fire-cracker chicken curry platter - Fire-cracker chicken curry, cauli-pilau rice, aloo dal paratha, roasted Indian potatoes & a trio of chutneys.
Dessert: Mango 'Lassi' style yoghurt pot with 'Coco' biscuits - A zingy combination of fruity mango, rich yoghurt with lime served with chocolate and coconut biscuits.
Kate used Maggi Vegetable Liquid Concentrate and Maggi Rich & Rustic Tomato Sauce in her main course and Carnation Light Condensed Milk, Maggi Coconut Milk Powder and Nestlé Shreddies in her dessert.
Kate Davies said: "I was so proud to have won the national title. With the skill amongst this year's finalists being so high, I felt it was an achievement in itself to compete with such a talented group of people.
"All of this just goes to prove what a good job school chefs do, day in, day out, up and down the country to provide tasty, nutritious meals for millions of children.
"I am fortunate to have a great team within my organisation, all of whom have backed me and helped me throughout the competition.
"I hope that this achievement will also serve to reassure parents everywhere about the high quality, balanced and tasty meals that are provided, not only in St Gwladys Primary School, but across the length and breadth of the country.
"My employer, Caerphilly Catering, my school, my colleagues and my students are all absolutely thrilled and honoured by this success. I am looking forward to an exciting year as the new LACA School Chef of the Year 2015".
Kate Davies, 34, hails from the heart of the South Wales Valley. She attended a local school and college where she studied mechanical engineering. Upon leaving college she had a variety of jobs but found her vocation in life when she started to work in catering.
She is currently school chef at St Gwladys Primary School in Bargoed where she prepares about 135 meals per day for 3-11 year olds. Prior to working at the school, she has held a number of posts within the hospitality industry.
Kate previously won the Welsh title in LACA School Chef of the Year 2014 and went on to take the Marketing Award at last year's National Final.
The winner of the Highly Commended Main Course prize was Vicky Brammer from Crescent Academy, Stoke on Trent, for her dish of Vegetable Stack with Herby Salmon – crusted salmon served with courgette rosti, accompanied by a wedge of vegetable pancake and tomato sauce.
The winner of the Highly Commended Dessert prize was Sharon Cundell from St Edwards C of E Primary School, Plymouth, for her dish of Tastebud Tingling Lime and Coconut Loaf – a zingy Caribbean lime and coconut cake with seasonal raspberries and cooling crème fraiche.
The Marketing Certificate of Merit went to Shereene Weston from St Mary Magdalene RC Primary School, Lewisham, South East London. This award acknowledges the creativity and efforts put into the display tables produced by the finalists as a backdrop to their dishes.
The 10 LACA School Chef of the Year 2015 National Finalists, came from across Britain and all work at the frontline of school catering, with first-hand experience of the challenges of feeding both children and young people.
The tough competition criteria puts the preparation, cooking, creativity and presentation skills of school chefs to the test. Each entrant is required to produce, in just one and a half hours, a healthy balanced two-course meal comprising of a main course and dessert that would appeal to 11 year olds in school. A maximum of £1.60 is allowed for the cost of a single meal (i.e. main course and dessert) for one child.
With the Competition rules requiring recipes to reflect the global influences on school meals and the ethnic and cultural mix of a school's pupil population, competition sponsor, Maggi at Nestlé Professional included an extensive selection of its products in the competition basket to help contestants' enhance the creativity of their menus.
LACA National Chair, Carrieanne Bishop, said:  "The culinary and creative skill of this year's finalists was, once again, at an exceptionally high level which meant that the judges must have had a very difficult task.
"My congratulations go to Kate Davies. Her success in taking the national title is indeed a major achievement. LACA School Chef of the Year continues to represent a highly positive way of communicating the benefits of supporting a high quality school meals service in order to help safeguard the health of the next generation.
"Parents and the wider community should be reassured that our talented front line staff in schools not only prepare tasty, highly creative dishes to tempt the taste buds of discerning children and young people but also nutritious school meals that make a major contribution towards altering eating habits, improving diets and decreasing obesity levels.
"The Finalists and all of the contestants that have taken part this year should serve as a real inspiration for the food and beverage service in every school nationwide."
Chair of the judging panel was Justin Clarke, Food Development Chef for Maggi at Nestlé Professional. Also on the Judging Panel was SSgt. Andy Saupe, Food Services Squadron (Army), Food Services Wing, Worthy Down; a local authority catering professional, Jacqui Webb, LACA; leading dietitian Jasmine Challis, British Dietetic Association; the LACA School Chef of the Year 2014, Tanya Watkin from Bedfordshire; and an 11 year old boy and girl, Maia Fernando and Simon Kmec from South Wonston Primary School, Hampshire.
Susan Gregory, head of food at Nestlé Professional, said: "LACA School Chef of the Year is a valuable opportunity to recognise the achievements of those who feed our nation's children tasty and healthy meals every day on a limited budget.
"We've been very impressed by the abilities of the highly skilled and talented chefs that have taken part in this year's competition and extend our sincere congratulations to Kate Davies."
Watch all the action below