School cook in Chichester serves up winning sausage dish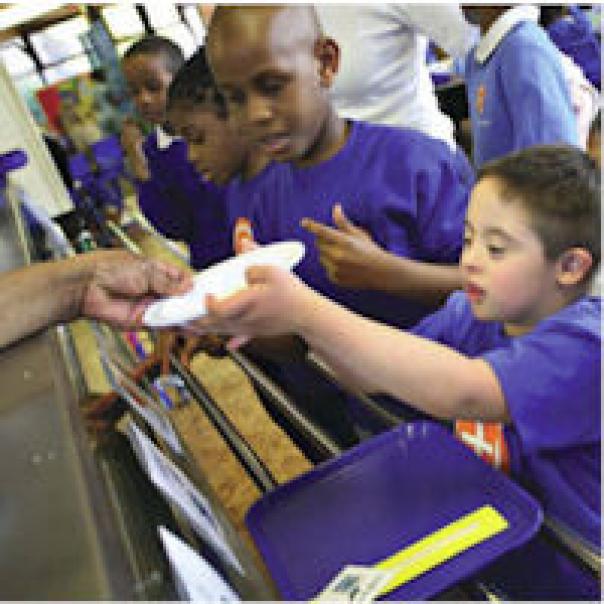 11 Mar 2011
Nickki Boardman, a cook at St Anthony's School in Chichester, has created a sausage-dish that won first place in a national competition.

Boardman created a meal of 'Sausage Enchiladas' that impressed judges of the special schools competition as part of British Sausage Week (01 - 07 November 2010).

The competition, which attracted 34 entries from cooks across the country, challenged them to come up with a nutritionally balanced sausage meal, including at least one portion of vegetables, fruit or salad ingredients, to be served as part of the school meal menu.

She has won a prize of £100 worth of shopping vouchers and a framed certificate by 'Mr Sausage' – the British Sausage Appreciation Society's mascot. She also won a Hi-Fi system for the school.

She commented on her win: "I'm really pleased although a little shocked to have won! We've served bean enchiladas before and they were a popular choice. Sausages are always a clear favourite too, so it seemed logical to combine the two.

"We mixed sausages with a tomato sauce, some peppers and onions, popped it in a flour wrap and then topped with sauce and cheese. The enchiladas were served with spiced rice and green salad and all the children and teachers loved it; so much so that we hope to add it to the menu in future."

Taking second place was Debbie Carter from St Paul's CE Primary School, Tameside and third place went to Carol Pell from Herrick Primary School in Leicester.

BPEX foodservice trade manager Tony Goodger added: "We know children love sausages; often the number of pupils opting for a meal in school increases if sausages are on the menu. What's more, they can be used to help encourage children to eat pulses and vegetables that they may have other otherwise avoided, making them a good choice for school meals."