Pasta King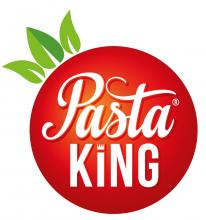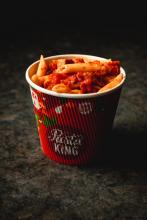 Loved by school children and young adults across the nation, Pasta King's 25 year heritage has been built on providing nutritional, hot school meals, something which research has shown can improve academic performance during afternoon classes.

Ingredients are responsibly sourced across the UK and beyond and are freshly prepared to order in Pasta King's craft kitchens in the heart of Devon, so that our meals just have to be heated and served.

Pasta King's range extends to more than 35 freshly-made sauces with international influences: Traditional Italian, Tastes of the World, Asian, Indian, Mexican, Street Kitchen curries and Best of British. Our sauces can be served with pasta, rice or noodles and we have a range of breaktime options such as pitta pockets and tortillas.

Pasta King's great value meals cater for special diets including vegetarian, vegan and gluten-free. Halal options are also available. Traceability and compliance are key and the meals are low in saturated fat, sugar and salt with levels meeting government regulations.

We are an ethical and sustainable business, our products contain no artificial flavourings, hydrogenated fats or palm oil and we provide 100% compostable serving pots.

We can provide a range of serving and display units, some of which are mobile and can keep food warm without power supply for 45 minutes - ideal for an extra till point or to take food outside.

Pasta King's marketing is proactive and vibrant point of sale is provided with end-user loyalty schemes on offer. Themed days such as Chinese New Year and National Curry Week keep menu fatigue at bay.

Described by our customers as 'versatile', 'fast to serve', 'nutritionally-balanced', 'wholesome', 'affordable' and 'easy to prepare', we have supplied more than 200 million meals in the past 25 years, which is testament to the brand, ease of use and great taste of Pasta King products.

This year, we have donated more than 100,000 free school meals, underlining our commitment to supporting schools and students.

Pasta King - good food that does good!