19 May 2020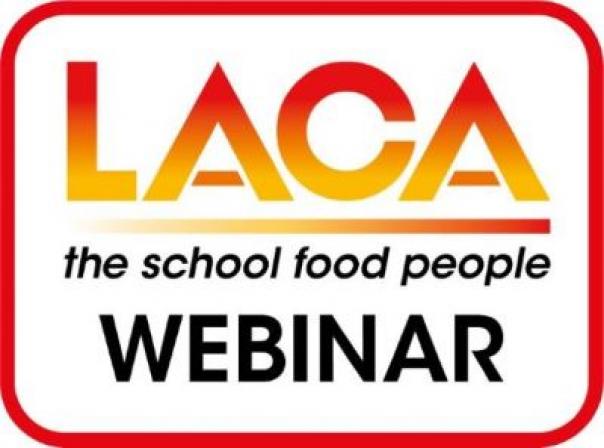 ---
Wednesday 8th June, 14.00
Jacquie Blake will provide a LACA update with more details on the Main Event taking place this July.  She will be joined by Brad Pearce, vice chair to discuss the FSA School Food Standard pilots due to be carried out this year.
Hear more about the Catering T Level being developed by Highfield.  They have been chosen by the Institute for Apprenticeships and Technical Education and DfE to develop the technical qualification which is designed to attract young people to work in the catering sector via a work placement element.  The qualification is an excellent recruitment stream for the sector, and they will be joining us to tell us more.
Brad Pearce will update us on the LACA snapshot surveys which began at the end of 2021 to keep members informed on key issues across the sector.
Political update from SVC.
---
Previous webinars:
LACA National Spring Seminar 2022, 15 March 2022, NEC Birmingham
WATCH RECORDING
Wednesday 19th January 2022, 14.00
An update from national chair Jacquie Blake followed by a presentation from Dan Parker, CEO at Veg Power on the 'Eat them to Defeat them' campaign. Political update from SVC.
WATCH NOW
Thursday 23rd September, 11.00
David Foad, editor of School Caterer, will be joined by both Stephen Forster and Jacquie Blake to discuss the key issues around school food and the school year ahead as Stephen passes the chair of LACA to Jacquie.
This is a free webinar in association with Public Sector Catering.
WATCH NOW
Wednesday 30th June, 14.00
Improving Customer Relationships and Reducing Sugar on your Menus
WATCH NOW
Wednesday 26th May, 14.00
Raising awareness of Natasha's Law - part 2
Allergen label changes - practical tips and case studies.
WATCH NOW
Wednesday 5th May, 14.00
Raising awareness of Natasha's Law - part 1
Arvind Thandi, Team Leader – Food Hypersensitivity, Food Standards Agency and update from Quorn on this year's LACA School Chef of the Year competition.
WATCH NOW
Wednesday 24th March, 14.00 - member only webinar
Discussion with Vicky Ford MP, Minister for Children, and great practice case studies from the school kitchen
WATCH NOW
Wednesday 24th February, 14.00
An interview with Holly Charnock, current LACA School Chef of the Year and an update on the March 8th return to school
WATCH NOW
Wednesday 20th January, 12.00
Free School Meals and Free School Meals parcels - your questions answered
WATCH NOW
Wednesday 13th January 2021
LACA School Chef of the Year - Quorn Masterclass
WATCH NOW

Monday 14th December, 16.00 - open to members and non-members
LACA Update and Christmas Quiz
WATCH NOW
Wednesday 25th November - Member only webinar
Political Update & LACA Awards for Excellence
This session also included the launch of the new LACA Buying Group and a review of NSMW
WATCH NOW
Tuesday 21st October - Member only webinar
Service Delivery
This session will include the launch of the
LACA Allergen Management tool.
WATCH NOW
Wednesday 23rd September - Member only webinar
Back to school, a UK wide update
WATCH NOW
Wednesday 22nd July
The Importance of School Food
Including a presentation from Greta Defeyter, Northumbria University and a demonstration from LACA School Chef of the Year, Holly Charnock
WATCH NOW
Thursday 9th July
How at risk is the school meals service?
The State of the Nation
WATCH NOW
Friday 3rd July
An interview with Alex Norris MP
Shadow Minister for Public Health
WATCH NOW
Wednesday 24th June
An interview with Sharon Hodgson MP
Chair of the APPG on School Food
WATCH NOW
Thursday 4th June
Future of Public Sector Catering Schools in association with Public Sector Catering
WATCH NOW
Tuesday 19th May
Preparing for School Catering Service Post Lockdown
WATCH NOW